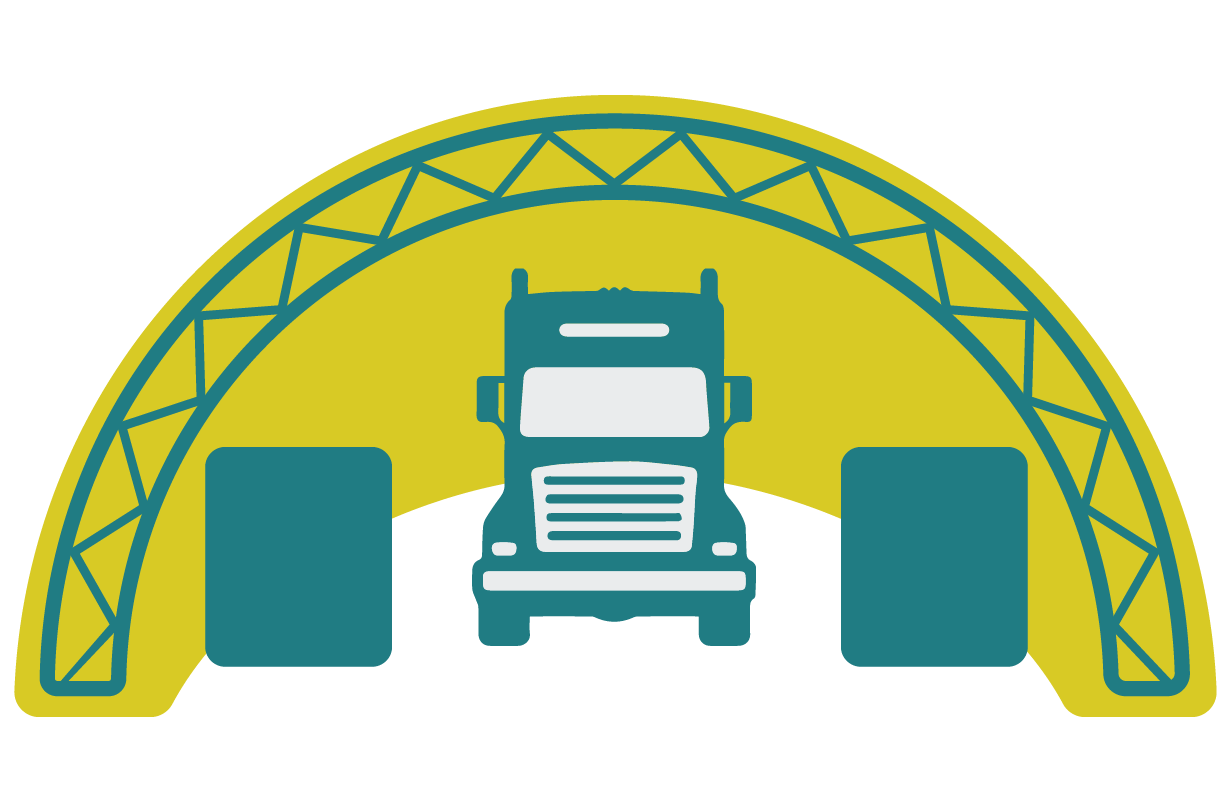 18′ – 50′ wide by any length required.
A great building for any application.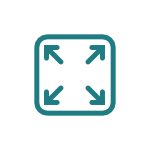 Many Sizes
Available
Available in 12′, 15′, 18′, 24′, 30′, 38′, and 48′ wide by any length required!
Six Colours to
Choose From
White, Translucent (Clear), Red, Silver, Blue or Green
Galvanized
Framework
1 5/8″ and 2 3/8" Galvanized Framework
Canadian
Materials Only
High-Quality Materials Sourced from Within Canada
Customization Options
Frame and Cover Can Be Customized to Meet Your Needs!
Engineered Double-Truss
Portable Fabric Tension Building
Highly Versatile Portable Fabric Buildings
Our double-truss portable membrane buildings are great for industrial, agricultural, and recreational use. Whether you need to store equipment, stockpile materials, build a temporary or permanent work-space or manufacturing plant, our portable buildings are a great solution to any building need you might face!
Our double-truss portable buildings are available in 18', 24', 30', 38' and 48′ widths by any length required. Our buildings feature cladded metal end walls, with a sliding door and an entry door on one end. Various customization options available.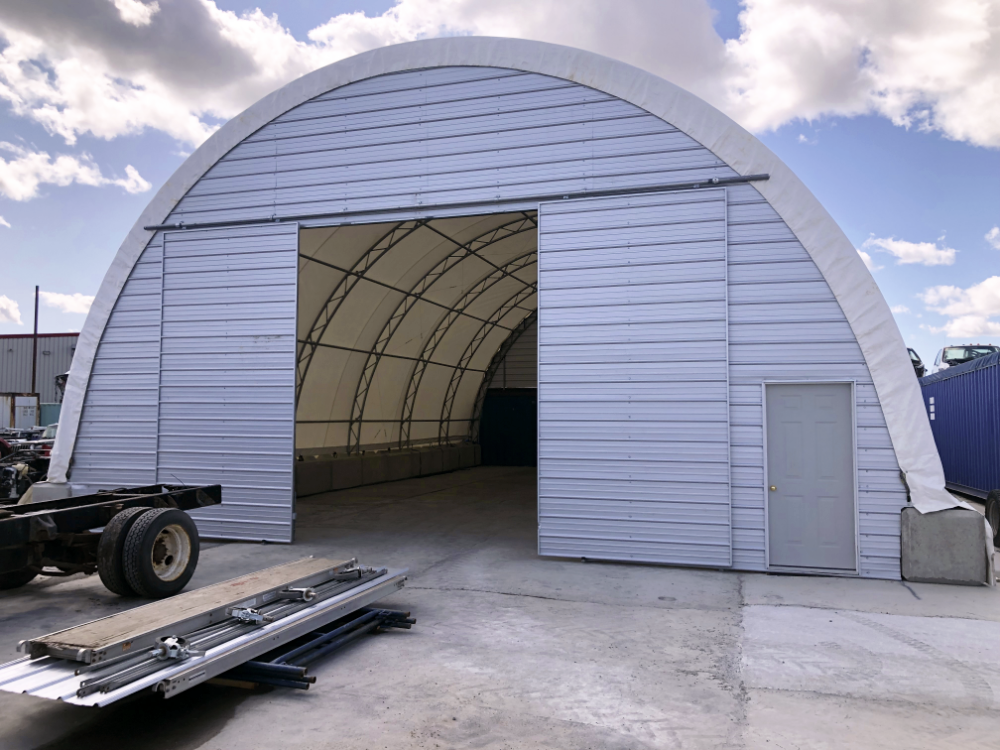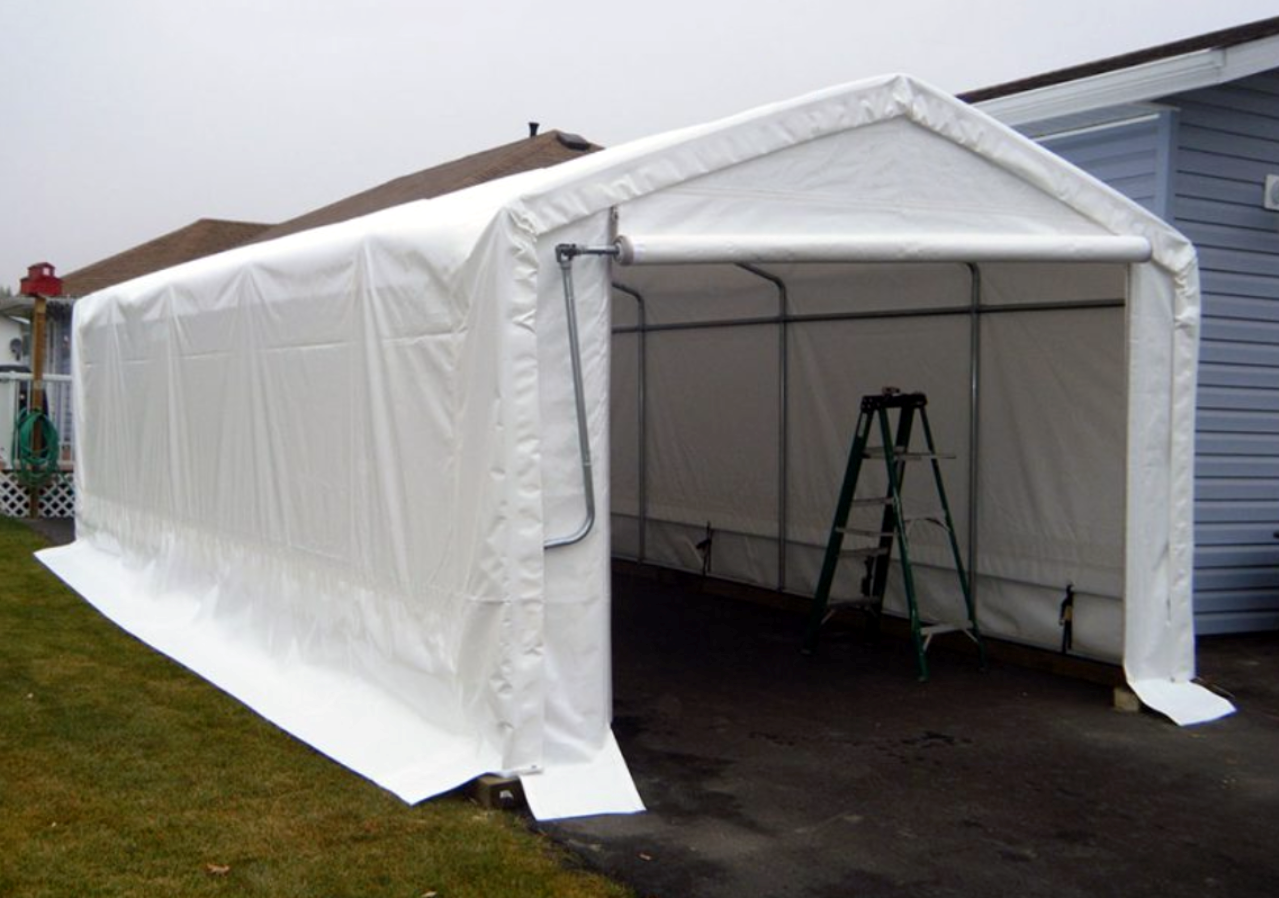 12′ Wide Portable Garages
Versatile Storage Solutions for Smaller Equipment and Spaces
Our 12′ wide portable garages or carports are easy to set-up and take down. Unlike permanently constructed wood or steel buildings, they are cost-efficient and let natural light inside. These portable structures make great car/truck garages, carports, greenhouses, sheds, work shops, storage buildings as well as outfitters tents (using treated FR canvas).
15′ Wide Boat & RV Shelters
Supersize Your Storage Space for Your Boats, RVs, or Fifth Wheels!
Our 15' wide portable boat and RV shelters are a great solution for storing your belongings that would not fit into our regular 12' wide portable garage. They easily fit sports and pontoon boats, fifth wheels, trailers, and other recreational vehicles. Our portable boat shelters are easy to set-up and take down and are a cost-efficient solution to permanently constructed wood or steel buildings.