DECREASE NOISE GENERATED ON WORK SITES WITH
SOUND BARRIERS
Sound Barriers
Product Intro
Sound barriers are installed to decrease and enclose the noise created by rig generators, exhausts and other loud applications. Noise and vibration control is essential for your health & safety, and the protection of nearby surroundings.
With a minimum life span of 7 years (when properly installed) in the harshest environments, this product is typically used as a noise barrier on outdoor applications such as construction site noise mitigation projects. BBC-13-2″ (the insulated quilted material) has been a recommended, specified and approved product to comply with the New York City Noise Ordinance Code.
Acoustical Ratings: STC 32, NRC .85

Class A Flammability Rated per ASTM E- 84

Designed for Outdoor Applications

Modular Frame Sizes May Differ
(The Photo to the Right is 11'6″ Wide x 17′ High with a 5′ High Wing)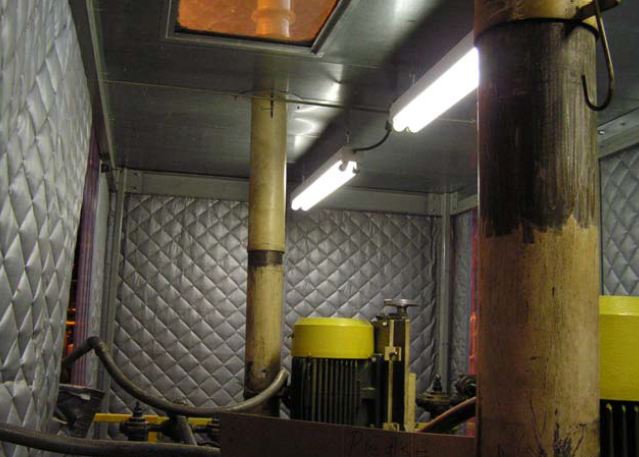 BBC-13X-2"
Sound Curtains
This product consists of a two-inch thick vinyl-coated-fiberglass-cloth faced quilted fiberglass absorber that is bonded to a one-pound per sq. ft. reinforced loaded vinyl noise barrier.
"X" style sound curtain panels are constructed with grommets across the top and bottom, and exterior grade Velcro seals along the vertical edges. A more permanent solution can be achieved by bolting the panels right to the frame.
Description: Vinyl coated fiberglass cloth facing on 2" quilted fiberglass and 1 lb-psf reinforced loaded vinyl noise barrier

Flammability Flame Spread: 23.0 – Smoke density: 30.0

Nominal Thickness: 2.0 inches

Temperature Range: -30° to +80° C (-20° to +180° F)
Onsite Trailer Light Plants

Lease Perimeters or Berms