DIVIDE SPACES & CONTAIN OVERSPRAY
WASH BAY CURTAINS
Divider / Wash Bay Curtains
Product Intro
Industrial wash bay / divider curtains help contain heavy dirt & grime while power washing to one area as well as quickly divide open spaces in warehouses. They are inexpensive versus fixed mortar & brick walls and quickly deployed with various hardware options such as industrial roller curtain track.
Wash bay curtains are an ideal solution for applications where complete enclosures or sectioning is required. Common types are straight run (one sided), L or T shaped (two sided), U shaped (three sided) and complete 4-sided box enclosures. Common applications are car / truck wash bays, warehouses, and other industrial uses.
Separates Work Spaces for Minimal & Easy Clean-Up

Simple to Install and Move

Customizable Sizes up to 30ft Long (Use Multiple Curtains for Longer Areas)

10 + Colours to Choose From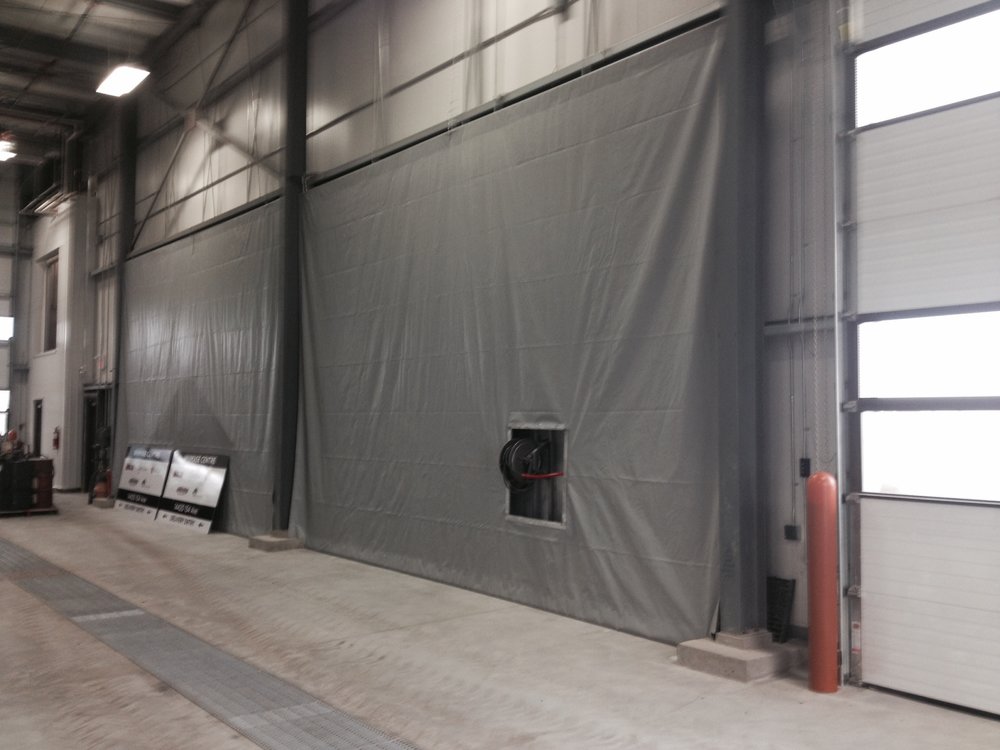 Custom Designed Wash Bay Curtains
Our industrial wash bay / divider curtains can be completely customized: 1, 2, 3 & 4 sided enclosures, variety of material thicknesses, multiple hardware options available, fully clear / clear strip, as well as cut-outs, doors and windows.
With all these various design options available, we can custom build your curtains to exactly suit the needs of your operations.
14, 18 or 22 oz. PVC fabric with 20 or 30mil clear PVC strips / sections

10+ Colours: White, blue, black, green, brown, beige, orange, yellow, red & clear

Rolling Hardware Options:

16 gauge galvanized steel C-tracks
Nylon roller hooks for easy opening
1″ Heavy-duty brass spur grommets along top edge
10+ Colours Available
White, Blue, Black, Green, Brown, Beige, Orange, Yellow, Red, & Clear / Transparent
Heardware Options
Curtains can be installed via C-track, or pulley methods.
Custom Sizes
Curtains are up to 30ft long, and 20ft tall. Use multiple curtains for longer runs.
High Quality Materials
All PVC's have a -40° low cold crack, high UVI & strength properties, FR options available
Waterproof
Heat-welded seams ensure waterproof enclosures